Blog by Craig Miles, mainly about Marine Engineering & Digital Marketing.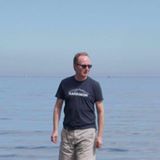 Random stuff about me:
Left school at 16,  did one year of electronics at college, then worked in marine electronics manufacturing industry.
Once got a business idea while being chatted up by a lady in  a bar in Thailand (I politely declined her offer).
After first job, moved into  Wireless Telecoms.
Then got a  degree in Telecoms & Marketing.
Once part of a team of 7 in a raft race. The other six quit during the race, but I refused, and completed the course alone. Was knackered at end though.
Previously  worked at Europes leading international aerospace company, and also the worlds premier marine training school, doing proper engineering stuff.
Wrote first website, in HTML, in 1997, after buying a book on it to help get over a breakup (yes really).
Currently based in the UK, but have a nomadic heart.
Why not get in touch, I don't usually bite.
Twitter:    @acraigmiles
Instagram:  mrcraigmiles
Save
Save
Save